Utah Rifle Deer Hunt Primer
Posted Oct, 2005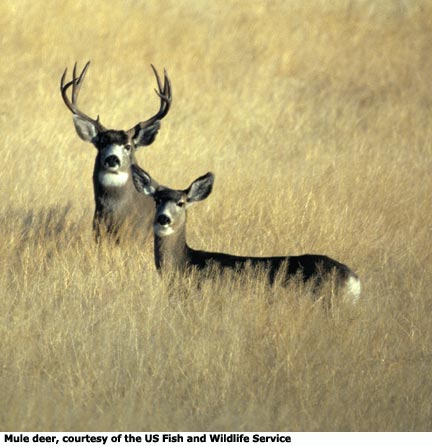 The general-season rifle buck deer hunt is the most popular hunting event in Utah and about 60,000 hunters are expected to participate this year. If weather conditions are favorable, hunter success is expected to be good because the deep population is up statewide
As of this writing, there were still a few permits available to hunt in the northern region. Other regions are sold out. The Northern Region is expected to offer good hunting, with a buck-to-doe ration higher than most other areas in the state. If you want one, buy it immediately at a store that sells licenses. Licenses are also sold online from the DWR's Website (www.wildlife.utah.gov), but you've got to buy it early enough for the tags to be mailed to you before the hunt.
"Last year, permits for the Northern Region sold out on the Wednesday before the hunt," said Judi Tutorow, wildlife licensing coordinator for the DWR. "They're selling at a faster pace this year. I would encourage hunters to buy their permit as soon as possible." Other regions have been sold out for some time.
Scouting before the hunt will be particularly important this year. Weather and range conditions may cause deer to move from areas where hunters have found success before. Go to the same old trusty spot you've hunted for years and you may come up empty. Range conditions have been good this year and so animals have been spread out. But most mountain areas picked up heavy snowfall early in October. Will there be snow on the ground during the hunt, and will it be enough to push the deer down from the tops of the mountains? You'll have to scout to find out.
Snow before the hunt is often good for hunter success because it may concentrate the animals. Storms also knock leaves off trees so deer are more visible, and snow on the ground makes it easier to track animals. But a major storm on opening weekend usually reduces hunter success.
"Heavy snow fell throughout much of the state right before the rifle hunt last year. The snow drove deer out of the higher elevations and right to the hunters. Those hunting in central and northeastern Utah took a lot of mature bucks," said Craig McLaughlin, big game coordinator for the Division of Wildlife Resources.
The rain that fell this spring and early summer left plenty of watering holes for the deer and lots of vegetation, allowing animals to spread out throughout their ranges. The best scenario for hunters is to have significant snow a couple weeks before the hunt. That knocks leaves off trees, increasing visibility, and concentrates the deer at mid-elevations. Early indications suggest that may happen this year. If the recent snow melts quickly animals will remain scattered and will be harder to find.
To find success, McLaughlin encourages hunters to scout their hunting area before the season opens. "Scouting before the opener will pay off because you'll learn the travel routes deer are taking in the area you'll be hunting," he said. "Also, if there have been any changes in areas that are open to hunting, you'll know about those changes in advance.
But scouting too early can be counterproductive. If you scout early you will probably find deer on the mountain peaks. But these storms may push them lower and you won't know where to find them.
"If the weather turns cold, look for deer on sunny, south-facing slopes, "McLaughlin said. "Unusually warm weather will keep deer in shaded areas with heavy cover."
"The number of deer in Utah is continuing a slow but steady climb," McLaughlin said.
Based on surveys conducted after Utah's 2004 rifle hunt ended, DWR biologists estimate 289,000 deer were in Utah at the start of last winter. That's 21,000 more animals than the 268,000 deer estimated in the state after the 2003 hunt ended.
Many of last year's mature bucks will be replaced by younger bucks this year. "After four years of decline, the number of fawns per 100 does rebounded in 2003 and 2004," McLaughlin said. "During surveys this past March and April, biologists found an average of 70 fawns per 100 does across the state, so I think hunters will see good numbers of young bucks this fall."
Safety is always a major concern during the deer hunt. Here are some pointers to help you stay safe.
Plan on cold, wet weather. Bring proper clothing and camping gear. Waterproof, insulated boots are essential and may mean the difference between an enjoyable hunting experience and a cold, miserable trip.
Plan on icy, wet, muddy roads. You will need four-wheel drive to get to many hunting areas. Bring tire chains or a tow chain or strap. Make sure your tires have good tread and are properly inflated.
Make sure your rifle is sighted in. Target shoot enough that you know how your gun will shoot at different distances. A few hours on the target range will dramatically improve your chances of a successful hunt.
Carry emergency gear with you while hunting. Bring a little food, some waterproof matches and a first aide kit. Bring one of those nifty space blankets that will keep you dry and at least a little warm should you get hurt or become lost. A GPS can also be mighty helpful.
Never hunt alone. Always tell somewhere where you plan to hunt and when to expect you to return home.
Finally, know the regulations for the area you plan to hunt. Boundary descriptions and other regulations may change from year to year. Read the proclamation, even if you've hunted that spot every year for the past 30 years. You can read proclamations online at this web address: www.wildlife.utah.gov/proclamations/
On a side note, bring your fishing pole with you when you go deer hunting. Excellent fishing lakes and streams are located close to most popular hunting areas. After tromping around the hills all morning, getting cold and sore, come back to camp and grab your fishing gear. Set up a chair in a sunny spot, throw out your bait and relax until that big one bites. Some of the best fishing of the season is happening right now and you may as well enjoy it.
Good hunting.