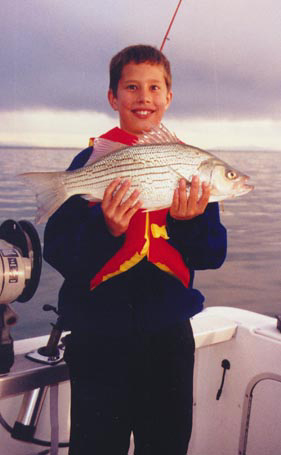 Wiper fishing has been hot at Utah's Willard Bay, and good action should continue though the fall.
Lots of little wipers are being caught, along with a few big ones. Many of the big ones are pushing 20 inches and getting bigger every week.
Kent Sorenson, DWR biologist for Willard, said he expects to see the state record for the wiper broken a dozen times over the next few years. He expects to see 10 pound fish in three or four years.
The prolific gizzard shad, introduced a few years ago as a forage fish, has caused the reservoir to explode. Biologists expected an abundant shad population would benefit the wipers, walleye and channel cats, but they have been pleasantly surprised to see smallmouth bass, crappie and bluegill coming back strong in the reservoir.
Some people have expressed concern because it now seems harder to catch big walleye and catfish in the reservoir. Jerry said he sees two things happening to account for that phenomenon. First, the big predators are well fed and are less inclined to hit lures or baits. Secondly, the shad have prompted a change in habit for all fish in the reservoir. The shad are an open water fish – they range freely out in the reservoir. The big predators are chasing them and are spending most of their time out in the reservoir – not along the dikes where people expect to find them.
The dikes serve as nursery areas and offer lots of fish, but most are small.
Jerry said his sampling shows healthy populations of walleye and big channel cats.
Key Fishing spots:
1 - North Marina
2 - Trees along shore south of N. Marina
3 - Bay near north outlet
4 - Light Pole
5 - Submerged Island
Both the North and South marinas offer well-maintained concrete boat ramps that can handle large boats. Both marinas also offer picnic and camping areas.
A new regulation at Willard allows anglers to keep only one walleye over 20 inches. The regulation should insure a healthy walleye population and allow the water to produce trophy fish.
? When the fish are boiling, quickly boat close to the boil then cast a lure or jig across the boil so you can retrieve through it. Wipers will often pound your lure – you may get a hit every cast.
Some boils will be concentrated in a small area – it will literally look like the surface water is boiling in the area. Other boils will be loose and you will just see rings on the surface in an area.
Boils are expected to last well into the fall.
? When the fish are not boiling then cast or troll lures that resemble shad. Cast in toward the rocks on the dikes and work the lure back toward the boat. Troll along the dikes or out in the lake.
When casting or trolling, experiment with depths. Traditionally at Willard it has been important to work the structure – to keep lures near the bottom so they skim the top of rocks. But it appears the habits of fish in the reservoir are changing because of the gizzard shad. Fish of every species are being caught trolling at all depths, from just under the surface to down near the bottom.
Troll with an electric motor or drift with the breeze, if possible, because gas motors often scare the fish in the shallow reservoir. Trolling with a gas motor is most effective if you let out a lot of line and troll in S-curves so the lure travels through water the boat has not crossed.
Evenings have been best. The most consistent action has occurred between sunset and dark. Late afternoons and early mornings can also be good. Fishing after dark is often very productive.
Good wiper lures are pictured at right. Shad Rap Rapalas are a good choice, in black, grey and white colors. Jointed Rapalas are also good. Rattling Rapalas can be very effective.
A pearl-colored jig or grub is deadly at Willard. It will take wipers, catfish, walleye, bass and crappie. Chartreuse is also a good color for jigs and grubs.
Tiny Torpedos are very effective when the wipers are boiling on the surface. They chum the water to attract the fish's attention.
Silver Kastmasters are good because they can be cast long distances.
Any silvery lure can be effective.
At times it is important to try to match lure size with the size of the shad the wipers are feeding on. This may be most important in early summer when newly hatched shad are small. The shad can spawn two or three times during a summer and so there is a wide assortment of sizes available by fall. In general, lures and jigs from 1-3 inches in length are effective.