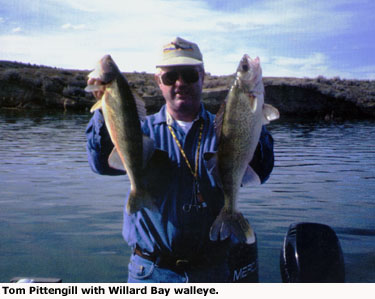 Here are a few walleye facts and tips that will help you catch more of the toothy monsters:
a. Utah's most important walleye waters are Utah Lake, Starvation Reservoir, Willard Bay, Yuba Reservoir, Deer Creek, Lake Powell, Cutler Reservoir and Delta Reservoir (DMAD). Walleye can also be found in the lower Sevier River and lower Bear River.
b. Walleye are not pike! They are a big member of the perch family and cousins to yellow perch.
c. Contrary to popular opinion, walleye do feed during the day. As a matter of fact, they feed around the clock.
d. Walleye are very sensitive to light. They don't like it. In clear water they move deep during the day and only move into the shallows during the evening, night and early morning when the sun is off the water. Light is not as much of a factor in muddy or murky water.
e. Even when the walleye have moved into the deeper water, during the day, they are actively feeding.
f. Small walleye feed on mayflies, caddisflies, stoneflies, and small crayfish. Large walleye feed almost exclusively on other fish and crayfish when they are available. To catch large walleye, fish imitating lures are a must.
g. Walleye spawn several weeks after ice-off, when the water warms to between 38 and 45 degrees. The actual spawning activity occurs mostly at night.
h. Walleye spawn on rocky or gravelly shoals in water anywhere from two to ten feet deep.
i. Males precede the females to the spawning sites by a few days.
j. Walleye are prolific spawners. One twelve pound fish can produce over 388,000 eggs.
k. Walleye can be found near spawning grounds for three to six weeks.
1. Females leave the spawning grounds first. They are followed several days later by the males.
m. At Willard Bay, walleye spawn all along the dikes.
n. At Starvation and Lake Powell walleye choose rocky points, rock slides, submerged islands and rocky banks throughout the two reservoirs.
o. At Yuba walleye spawn on the few rocky banks available and on coarse sand and gravel bars throughout the reservoir.
p. At Utah Lake the walleye spawn along the dikes at each of the boat harbors, at the bubble-up area behind Geneva Steel, around Bird Island and on rocky points and banks all along the west side of the lake.
q. Casting jigs, rapalas, crankbaits and spinner baits are productive ways to fish for walleye.
r. Fish parallel to the shore and bounce your lure right along the bottom.
s. Fish slowly and deliberately.
t. Tip your lure with a crawler, a leech or chub meat to really attract the fish.
U. Good lure colors include chartreuse, fluorescent orange, blue, white, :rainbow and metalic.
v. Trolling is also a very effective way to get into a school of walleye.
W. Troll parallel to the shore line and just off of deep holes, pilings, reefs, gravel bars, rocky or sandy points and sunken islands.
x. Troll along (parallel to) breaklines (sudden depth changes).
y. Fish with fairly large lures — in the three to seven inch range.
z. Keep on fishing and experimenting until you find what triggers the fish to strike.
Walleye have lots of big teeth and the gill flaps are razor sharp — be careful.