Fishing The New Diamond Fork River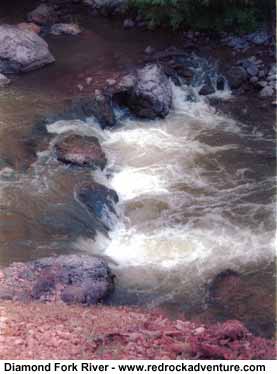 By Dave Webb
Fishing is good right now on the new and improved Diamond Fork River, and it will only get better over the next few years. The river system will quickly become a great boon to Wasatch Front recreationists, offering blue-ribbon fishing, great camping, excellent hiking and spectacular scenery — all just a few minutes southeast of Provo.
In years past, tremendous flows gushed through Diamond Fork Canyon, making summer fishing nearly impossible. They came from the Uinta Mountains via Strawberry Reservoir, courtesy of the Central Utah Project, giving Utah its share of Colorado River water. A massive pipeline project was completed this summer and so most of the water is now piped through the canyon; optimum amounts will be released into the river to provide the stable flows needed for a healthy system.
Flows near Three Forks should be around 45 cfs during summer and 35 cfs during winter. Flows will often be greater downstream. That makes Diamond Fork a medium-sized stream, by Utah standards.
Anglers I talked to on the river recently reported good but not great fishing. They were catching brown trout up to 20 inches.
"It's good now and it will get better," said Richard Hepworth, a Utah Division of Wildlife Resources biologist who has been studying fish populations in the river. "We basically have a new river with a strong population of brown trout. This is the first time in about 100 years the river hasn't had huge summer flows. Most stream sections are in good shape and the fish population is coming back fast."
Hepworth said browns and cutthroats reproduce well in the stream. One of his fears is that the browns will overpopulate and we won't get a good population of big fish. He'll watch the trends and recommend management changes if needed. Right now, most of the river system is subject to general trout regulations: bait fishing is allowed and the limit is four fish. Above Springville Crossing, Diamond Fork is restricted to artificials only and harvest of cutthroat trout is prohibited.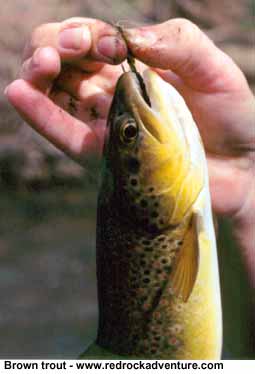 "On Diamond Fork, it won't hurt if anglers keep a brown or two," Hepworth said.
Fly fishers should find success with patterns similar to those used on the Provo during the fall. James Ferrin, owner of Hooked Fishing Tackle in Kaysville, said October Caddis should fish well from about mid-September until mid-October. Hopper patterns will work until the first hard frost. Ants are not as susceptible to frost and should be productive for the next several weeks. Other good dry patterns include Parachute Adams and Mosquitoes.
Browns often stay deep and nymphs can be used effectively to reach them. Standard patterns like Haresear, Prince, Copper Johns and sow bugs should be effective.
Browns become aggressive during the fall as they prepare to spawn and often strike streamers. Small spinners (Panther Martins) can also be effective at that time.
Sixth Water, the major tributary that carried the Strawberry Reservoir water, is now protected from high flows and will have good fishing over its entire length. Sixth Water runs through a rugged canyon with limited road access. That gives the river system a unique quality: easy access along the road in Diamond Fork and strenuous access for hikers and backpackers up Sixth Water Canyon.
Fifth Water Creek, another tributary, carries water from hot springs and is not a good fishery. The "Hot Pots" on Fifth Water are popular with hikers. That area offers several very nice pools full of naturally hot mineral water. Unfortunately, there are almost always skinny dippers in the pools. Some guidebooks have billed Fifth Water as a great family hike. That is no longer the case.
In much of Diamond Fork proper, camping is restricted to developed Forest Service campgrounds. Primitive camping is allowed in backcountry areas.
Copyright Dave Webb, 2005