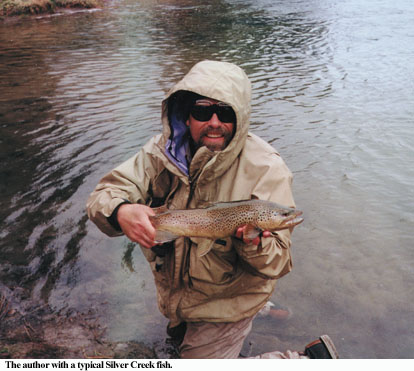 By Jeff Metcalf
(Published January, 2001, Utah Outdoors magazine)
The first time I ever ventured onto one of Idaho's greatest stretches of trout water, Silver Creek, I stumbled into Ernest Hemingway. Seriously. Hemingway rounded the corner just below Sullivan's Slough, an 8 1/2-foot, 4-weight cane rod in his hand, wearing his large trademark canvas marlin cap, sweat-stained, with a collection of hand-tied flies stuck into the side. An empty Coca-Cola bottle, filled with grasshoppers and plugged at the opening with a piece of cloth to keep the hoppers from escaping, hung around his neck. He wore a blue work shirt, and his rubber waders were pulled up high and cinched by a thick leather belt. Hemingway's face was suntanned. and his beard was closely trimmed to his round face. He looked virile and strong. He looked healthy and happy.
We had lunch together: Fat lamb sandwiches piled thick on peasant bread, Bermuda onions sliced thinly, and a thin spread of hot curried mustard feathered over goat cheese, washed down with cold beer. It was a great way to begin a day of trout fishing
Then we fished together and we caught trout. Big fat Silver Creek trout. It was good to be fishing for trout and better yet to be fishing with Hemingway. He had a poisonous cast and could make trout sing when they leapt from the water.
When I woke up from my dream I was disappointed. I was in my own bed, a Hemingway book splayed open on my chest where it had fallen when I dropped off the night before. But the dream was so real, and Hemingway so alive, that I took it as an omen and made preparations to head off to Idaho and fish in Hemingway's backyard. Sometimes dreams are just that, dreams. This was a dream about trout, and it was a dream about Ernest Hemingway. Somewhere between the dream and the trout there was a lesson. And in my first lesson on Silver Creek, I was about to learn a very important thing: The slippery, elusive trout of Idaho's premier waters are in complete control. Hemingway or no Hemingway, they hold all the cards in a loaded deck.
The reality
My Hemingway dream goes back 20-plus years, and my first visit to Silver Creek almost as long ago. But in the real world of trout fishing, I did not catch big fat Silver Creek trout. I got schooled. I got skunked. I became a student of trout and hatches. It was a painful lesson, but one I have never forgotten.
Old Doc Olsen, a local legend and fly shop owner, had given me directions to Silver Creek, even wrote them down for me on the back of an invoice and chuckled as I took off for the drive to Idaho. I was full of myself and fairly confident Id return to his fly shop with a host of great trout stories. When I returned home, I was out of flies and didn't have a single good story to tell. Doc never asked a thing about my trip. He hadnt' forgotten; it just wasn't in his nature to pry. And because of this, I eventually told him of my plight. I remember watching his face as I told him about the prolific hatches of PMDs, how the conditions were perfect, how the great expanse of sky would often cloud over, how radiant the fish were, slurping and gulping naturals all around my artificial fly, how exceedingly clear the water was, and how, at times, the water boiled with trout. Afterwards, he asked me a question.
"Did you touch any?"
"Yes," I answered him. "I stuck a few noses."
"Not bad for a first-timer."
"Meaning?"
"Meaning, the key to fishing Silver Creek is patience."
"I was patient," I argued.
"Not patient enough," he replied.
I don't think I understood it at the time, but it was the best advice I've ever had regarding Silver Creek, or, for that matter, any other stretch of unfamiliar water.
Silver Creek as myth
Sooner or later, everyone who is serious about dry fly fishing in the West will find his or her way to Silver Creek. It is, in many ways, a crafty stretch of water with even craftier trout. Considered by many to be the pure definition of a perfect spring creek, it snakes its way through private cattle ranches, pungent sage brush, fertile fields of alfalfa, potatoes, and barley, and finally opens up onto wonderful stretches of perfectly rich, bubbling pockets of watercress-stuffed springs delineated by marshy brush-lined banks. Because the water temperature varies only slightly during the year and the plant and nutrient life is abundant, it remains a perfect environment for producing and sustaining plump fat brown, rainbow and brook trout; trout always in search of a good meal but with a particularly skittish attitude toward fly fishermen.
Notwithstanding dramatic weather changes, hatches on Silver Creek are, for the most part, extremely predictable and frustrating. Callibaetis mayflies, PMDs, Tricots, Baetis and emergers are regular fare for picky trout from opening day to the end of the season. To be fully prepared to do battle, it is recommended that you carry a full fly box stuffed with all variations of a theme and ranging in size from #18s to almost-imperceptible #28s.
There are no careless trout on Silver Creek
Unlike many other western waters, where the angler might hook into a decent-sized reckless trout, Silver Creek phantoms have seen it all. Long leader, 12 or 14 feet in the 6x and 7x size, is an absolute must. The water is gin clear and the trout are extremely leader-shy. A 9-foot, 6-weight rod is a solid choice for almost any trout on Silver Creek, but the use of 4- and 5-weight rods can provide a wonderful challenge when it comes to turning larger fish. Paramount in tempting any trout on the creek is the presentation of a drag-free fly. Be forewarned; sloppy casts or the slightest drag will spook the fish in unimaginable ways.
One of the greatest frustration on fishing Silver Creek comes when you are trying to read masking hatches. It is not uncommon to be fishing a Baetis pattern and find a sudden PMD hatch overlap. Be prepared to change flies often and take time to experiment with variations on a theme. Quite often a sudden change in a hatch, although short-lived, produces some of the best fishing of a day.
If fishing Silver Creek for the first time, you may want to enlist the services of a guide. Both Lost River Outfitters and Silver Creek Outfitters, located in Ketchum, 30 miles north of Silver Creek, have a cadre of well-trained guides whose sole purpose it is to know and understand the hatches as well as the personality of Silver Creek. By all means, if hiring a guide is not within your budget, stop into a local shop and find out when specific hatches occur and purchase the appropriate flies. There is no substitute for local knowledge regarding daily hatch activity. Anything short of serious preparation to do battle with the browns, rainbows and brooks of Silver Creek will leave an angler exploring new expletives.
The two sides of Silver Creek
Most anglers think of Silver Creek as being divided into two sections: Silver Creek of the Nature Conservancy and Silver Creek outside the conservancy. For all intents and purposes, Silver Creek begins east of the intersection between Highway 75 and U.S. Highway 20 and meanders for approximately a mile through the Silver Creek Preserve until it hits the falls just before intersecting with U.S. Highway 20.
Before stepping into the water of the Silver Creek Preserve, registration is required at preserve headquarters. Situated atop a sage-covered hill, it has a breathtaking, panoramic view of Silver Creek. During the season it is manned by volunteers who are well-versed in the plant, animal and bird life that surrounds the conservancy. All fishing in this stretch of Silver Creek is catch-and-release only.
Although most fly fishing aficionados prefer to fish within the bounds of the preserve, one should not overlook the second section of Silver Creek, which begins just the other side of U.S. Highway 20. This stretch is often ignored by fly fishermen because it is shared with bait and spin fishermen. During the peak season, however, when the 1-mile stretch inside the preserve can become very crowded, this is a good card to have up your sleeve, and the water, which very much emulates that of the preserve, can produce some very hearty rainbows and browns. There is a slot limit of two fish, under 12 inches and over 16 inches if one is inclined to keep a trout.
Good advice is good advice
The fundamental element to unlocking the secret mystery of Silver Creek is rooted in this chant: Patience, patience and more patience. To begin to understand the water, learn the feeding patterns of the trout and discover the best access points into Silver Creek requires a commitment of at least a couple of days. Anything short of this is almost a guaranteed exercise in futility. But these browns, rainbows and brooks can be caught, and once a fly fisherman hooks into a large brown and lands it on a tiny dry fly without snapping off the 7x tippet, the world takes on a different look and all seems right.
The majestic trout of Silver Creek share the same needs as trout on any other stretch of water in the country. They need to eat, they prefer sufficient cover from predators to wide-open expanses of unprotected water, and they love a constant food source. It is a simple equation in the life cycle of fish, but one that is a bit more complicated due to Silver Creek's physical structure. The famous hatches that offer plentiful delicacies to the trout, along with marshy banks that are often difficult to climb, can tax even the most skilled fly fisherman.
Be prepared during the heaviest part of the season to encounter a fair share of likeminded fly fishermen. It is imperative to arrive early, locate a good spot and plan to stay put for the hatches. Unlike other trout water, where one can wander up and down the bank looking for likely feeding spots, Silver Creek Preserve is a rather short stretch of water. When the hatch commences and thousands of fish begin rising to the fly, it is best to put on the blinders and headhunt to a particular fish. It is not uncommon to see a novice casting in all directions, responding to the slap and slurp of feeding trout. Tempting as it might be, and as seductive as the large ka-thump of a trout cannonballing out of the water is, this whirling dervish approach does little to heighten the success of landing a trout.
While in this neck of the woods
To be in Sun Valley and Ketchum and not give the Big Wood River a try is almost unpardonable. Often forsaken for its more famous fly water, Silver Creek, the Big Wood has developed its own solid reputation for plentiful 'bows, browns and a smaller population of brook trout.
There are a number of good locations for entering the Big Wood that make it a truly convenient stretch of water to fly fish. And the upper end of the Big Wood River, from Ketchum to the North Fork, holds plenty of frisky trout.
Even during peak fishing season, the Big Wood provides ample opportunity for fly fishermen to test the trout. Following spring run-offs in mid- to late July, the fishing can be exceptional, with wonderful hatches and aggressive trout. Most stretches are wadeable, and the river sports a series of classic trout runs and deep pools. When dry fly activity dies down on the Big Wood, the old basics (prince nymphs, bead-head hare's ears, and flashback pheasant tails) can be pulled out of the fly box and tested with a great deal of success.
Regardless of whether fly fishing is the driving force behind an expedition to the great trout waters surrounding Ketchum and Sun Valley, a trip into this area of the West is, by all means, a worthy and rewarding family affair. Between shopping in the quaint and unique shops along Ketchum's boarded walkways, taking in brunch at the Sun Valley Lodge, biking, golfing or skating along the scenic bike path beside the Big Wood River, there is plenty to do for the entire family.
And although I never did get a chance to fish and have lunch with Ernest Hemingway, I wouldn't mind playing a set of tennis with his son Jack (who almost singlehandedly created the funding to purchase the land on the Silver Creek Preserve), and if the opportunity presented itself, maybe wet a line together. Ill admit it is a dream, but I'm a fly fisherman, and great dreams are part of what always takes us to the mystery of water and the promise of great trout.
For more information on fishing in the Sun Valley area, contact any of these outfitters: Lost Rivers Outfitters, Ketchum, (208) 726-1706; Sun Valley Outfitters, Sun Valley, (208) 622-3400; or Silver Creek Outfitters, Ketchum, (208) 726-5282.