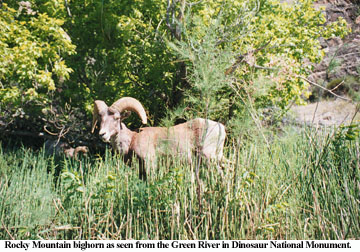 By Dan Pope
My heart was pounding as we maneuvered closer to the edge.
"Hurry," I told my 13-year-old son, Steve. "Grab the camera bag."
Camera finally in hand, I stood up in the raft. My heart was racing and I began to shake with excitement. I steadied my arm, waited until I had a clear shot, then snapped once, twice, a third time. My family and I were now within 15 feet of three very large and mature Rocky Mountain bighorns.
This was not something we had ever expected to see on our whitewater extravaganza, and it absolutely made the trip.
The pictures now safely stowed in the camera, my heart slowed some and my adrenaline began to drain off. These magnificent mammals were still so close I felt I could have reached out and touched them. Our river guide gently glided the raft even closer to where they were standing on the shoreline. Moving quietly and slowly, we were able to get within perhaps a dozen feet of the majestic, muscular animals. They looked up occasionally, but for the most part seemed more interested in grazing on the grass edging the river.
The bighorns were feeding along the north side of the river, between Whirlpool Canyon and Island Park, about 16 miles upstream from the takeout point in Dinosaur National Monument. Two were mature, their horns curled nearly a full turn, while the third had obvious breaks at the ends of his horns, suggesting he was the oldest of the group. We paused for 10 minutes before the sheep wandered up the bank and we let our raft drift downstream. Too soon, they vanished from sight.
I have never been so close to Rocky Mountain sheep. My family (wife Diane, and sons Matt, 15, Steve and Ben, 7) was obviously pleased with our find. There was no need to even ask what they thought – I could tell by the smiles on their faces. Rex Mumford, owner of Eagle Outdoor Sports of Kaysville, our river guide for two days, said that in the 16 years he has been running this river, he has never been as close to mature rams as we were on that sunny, hot June day. Brandon, one of Rex's guides, said it was the quiet and slow movements we made that allowed us to get so close. He complimented us on our ability to enjoy the moment without getting overly excited and making too much noise.
We were fortunate enough to see two additional herds of bighorns during our trip. One group of over two dozen ewes and their young meandered to just a hundred yards above our camp at Jones Hole. We watched for 20 minutes while on a hike up the Jones River to Ely Falls, and I was amazed by their agility. One would jump up, followed by others, until the rock was so full that one or two of the small animals would tumble to the ground, only to catch their balance before hitting. It was as if they had been climbing for years. The other herd, at least 30 in number, was located about two miles below the three rams. It not only contained ewes and young but also was watched over by two mature rams wandering along with them.
More surprises in the monument
I didn't expect to have the luxury of seeing so many bighorns on this whitewater river trip. Whitewater rapids, views, fishing and a wilderness experience were a few of the things I wanted from this excursion into Dinosaur National Monument. I had hoped my family would encounter something new, something they had never experienced or viewed previously. And we definitely did.
Dinosaur National Monument is a breathtaking reserve. The mountains are layered though a billion-year history of the Earth. Buried within some of these layers are the bones of dinosaurs, for which the national monument is named. But unknown to many, the monument also has spectacular vistas, with magnificent sheer cliffs, tree-lined valleys, and some of the most beautiful canyons I have ever viewed. The Green River carves a sinuous route through the monument, and above the river, the tops of the mountains stretch thousands of feet above into a marvelous sunlit sky. And one of the only ways you can see these vistas is to take a rafting trip.
To ensure a real wilderness experience, only two permits go to guides on the Green and Yampa rivers each day, while one permit is granted to a private group. All permit-holders must conform to strict regulations stipulating, for instance, that all garbage, including human waste, must be carried out, and campsites must be left as they were before arriving.
Several stretches of whitewater on the Green River were at least as wild as advertised. Class III rapids by the name of Schoolboy and Moonshine, as well as Greasy Pliers and SOB, graced the Green River in this area of the monument. Even many rapids without names were more than mildly adequate for the average river enthusiast. Moonshine Rapid was my favorite, a large and explosive section that begins quietly but quickly becomes aggressive. The wild water here appeared for a moment as if it would swallow us up. On the second wave, the raft lunged skyward and lashed me off my seat in the front of the raft, pushing me vigorously to the second row and nearly dropping me onto my son Steve, who sat directly in back of me. Diane laughed as I regained my balance, while Brandon yelled for me to get back in place and row with all I had. (There were still several waves yet that needed to be crossed). Once back in my seat, I was able to ride out the rest of the rapid without losing my balance or my pride.
Originally, our trip was going to be four days, beginning 50 miles up the Yampa River in Colorado. Rex Mumford had indicated to me in May that the trip we had planned for June 28 might not be possible if the flow on the Yampa River was not over 2000 cubic feet per second.
A much lower than normal snowpack and warmer than normal temperatures had doomed our trip down the Yampa, as the spring run-off had gushed all of the high-elevation water into the river by the 22nd of June. We were not going to be able to run the Yampa.
So our trip was shortened by two days and we launched on the Green River just below where the Yampa joins in with the Green at Steamboat Rock.
Though the trip was shortened, we remained very impressed by the sights. Besides the geological phenomena, we saw turkey vultures, ducks, geese, deer, rabbits, squirrels, eagles, falcons and, of course, the impressive herds of Rocky Mountain bighorn sheep.
The monument is also home to numerous petroglyphs. The rock art just above Ely Falls north of Jones Hole was awe-inspiring. One drawing shows a ram with its horns extending far behind its head. There are maybe 40 marks along one horn (which stretches out of proportion to the animal's body), perhaps representing how many sheep this artist had taken while hunting in the area. I had to ponder. What might it have been like to wander this terrain before the arrival of Euro-Americans? Was the area much the same today as it was when the native peoples hunted here? It was a special moment for me.
As a side note, the quality of food amazed me. I had no idea how delicious "hurricane salad" (lettuce, cucumbers, tomatoes, barbecue chicken and a few spices) would be for lunch, or how nice it would be to enjoy strawberry shortcake for dessert after stir fry on rice for dinner. We had blueberry pancakes and bacon for breakfast, along with cantaloupe and juice. To be honest, the food tasted better – and was healthier – than the fare we had eaten on our trip to Disneyland the week before!
Looking back
Utah has so much to offer outside the lights of the city. It was nice to venture outdoors again, so gratifying to be away from civilization. What a wonderful wilderness experience this had been: The canyons never seemed to end. There was wildlife everywhere. The rock art was beautiful and thought-provoking. These things alone might have been all we needed to experience to provide us a once-in-a-lifetime adventure.
But add to this the whitewater plunges that were impressed on our minds forever. Riding the rapids was the main reason we had come to Dinosaur National Monument. To surge through Split Mountain and tame the Green River was our intention. But, in the end, what we found was more than just the rapids. We found a whole other world to explore. And we discovered so many things we didn't expect to see, so close and yet so far away from home.
About the author: Dan Pope is the chief meteorologist with KTVX News4Utah. He co-edited the book Utah's Weather and Climate.
(Published Sept., 2000, Utah Outdoors magazine)