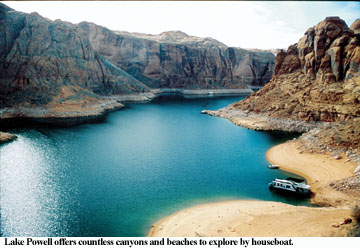 By Lin Sorenson
(Published April, 2001, Utah Outdoors magazine)
We're chugging into Bullfrog Marina on a sunny summer morning, our houseboat running at half speed. The group has gathered on the front deck to enjoy our last few minutes of time outside "reality." Bill, my best friend at the time and our official "partymeister," breaks the silence by asking, "I wonder what has happened in the real world since we've been away?" I look at my scruffy boatmates, take note of the tanned, peeling noses, monster hair, happy grins.
Four days earlier, we had converged at the appointed hour on the dock, carrying sleeping bags and swimsuits, sunscreen and hats, food and music to share, and books that we'd never open. Like kids on a stolen summer vacation, we'd slept in swimsuits. (Why change? We'd just have to put them back on in the morning.) We grilled steaks for breakfast and munched on breakfast bars at night, lost all track of time in the conventional sense, and developed a nightly ritual of gathering atop the boat to await the brilliant display of stars in the moonless sky. Now it was ending, and we were all reluctant to let it go.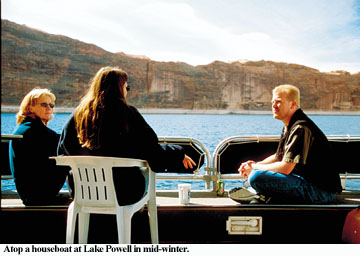 Lake Powell is an otherworldly place. Even when you're there in person and seeing it all firsthand, you can't quite believe it. Boats zipping over glassy green-black waters against a backdrop of brilliant blue sky and glowing orange stone. Water that changes color constantly, sometimes reflecting the cliffs so you can't tell where they begin and the water ends.
Houseboats are popular at Lake Powell because it's so remote; you have to bring everything you need with you or buy it at one of the five marinas. Page, Arizona is the only major town close to the lake, which is surrounded by National Park Service, BLM and Navajo Indian Reservation lands. There is no private or commercial land, hence, though both Wahweap and Bullfrog have lodges and restaurants just off beaches and overlooking the water, there are no beachfront hotels, shops or restaurants once you are out in the channel. Gasoline, groceries, food services, boat rental and repair, and other basic services are all provided by ARAMARK, the concessionaire approved by the park service.
Houseboats are like cabins with all the amenities, and they're mobile. You can take your home base with you wherever you go, and enjoy different scenery from your own deck every day if you like. Just find a beach, anchor your boat and claim the space. And with almost 2,000 miles of shoreline and 96 side canyons, you can find a place at Powell to call your own on even the busiest weekend.
If you want more mobility, or you're interested in fishing and water sports, add whatever you want to your fleet and tow everything behind the houseboat: a small skiff if you want to fish, a powerboat for exploring, skiing and wakeboarding, and personal watercraft and other toys for playing in the water. At minimum, it's a good idea to have a smaller runabout boat. Houseboats are hard to maneuver because of their bulk, and they can't go far into the smaller side canyons. They're also slower (12 to 15 mph at top speed) and burn lots of gas. Find a nice beach in an area you want to explore, anchor the houseboat, and use a small boat to explore by water, or hike in areas with ruins and other interesting sights.
In February of this year, a few of the Utah Outdoors crew made a winter trip to the lake. It was a very different experience from the busy spring and summer seasons. We had the place to ourselves. Even the main channel was quiet and serene. In our condo-on-the-water, we floated through scene after spectacular scene, passing side canyons that opened briefly to provide a brief glimpse inside, then disappeared from view. I felt a familiar sense of curiosity mixed with regret. What secrets were we passing by? It's the same feeling I get in old European cities, looking down narrow, winding streets and knowing that choosing one by default eliminates many other options. So many options, so little time.
Because the lake is so remote, there's no light pollution. Because of the narrow canyons (even the lake is narrow and long), there are minimal waves. At night, it's eerily quiet. In the black sky on a moonless night, stars seem close enough to touch, and so numerous it's difficult to make out the constellations. The silence is huge. It's so still, there's not even a lap of water against the boat to break the spell.
This was my first trip to the lake in winter. Now that I've visited in all seasons, I can say that they're all good — you just have to know which time is best for you, based on what you want to do. If you like water sports, June through September is the best time to visit (September and October are best for kayaking). For fishing, May through June and August through October are ideal; for quiet and solitude (and cool-temperature hiking), it's October through April. When our powerboat broke down, the two bass fishermen who rescued us (in one of only three boats we saw all day) said they prefer this time of year because there are few boats on the lake. They have no wakes to battle, and the water is glass.
You can rent a houseboat from ARAMARK and pick it up at one of the marinas, or regular visitors to the lake might consider buying a share in a houseboat. For our February trip, ARAMARK furnished our crew with a top-of-the-line 59-foot Admiral class boat with everything plus the kitchen sink. (It even had a trash compactor, which would come in handy if you had a large crowd for several days, since there's no place to "take out the trash" on a boat.) We had sleeping quarters for 10 people, with a load capacity of 12, and there was plenty of space for all 10 of us to gather at meal times and at the end of the day to chat about the day's events. Since it was cold, the sleeping capacity was important, as no one wanted to do beach camping or sleep on the upper deck.
As you decide what type of houseboat to get, consider the time of year you'll be going and the type of group you'll be traveling with. If you're just using the boat as a base camp and plan to spend most of your time exploring, skiing, wakeboarding or fishing, amenities are less important. In that case, spending less money on the houseboat and more on water toys or a powerboat would be a good plan. If you're there for lounging and scenery and plan to spend lots of time on the boat, or if you are visiting during wintertime, amenities and space will be more important.
I've taken most of my trips on low-budget rentals, although I once spent a weekend on a private boat with a fully stocked bar and a hot tub on the upper deck. We had plush carpeting, tinted glass windows and real furniture. Everyone was well-groomed and fully sunscreened, and typical conversations included business trends in the oil industry and the difficulty of finding a good nanny. No one slept in a swimsuit or did a cannonball off the deck to wake us each morning. The real world was never far away. I missed Bill.
If you go
Buy a map of the lake, and pay attention to your location while you're boating. The red and green buoys keep you oriented in the main channel, and there are marker buoys at the entrance to each canyon off the main channel. (Canyons on the Escalante and San Juan arms are not marked.)
If you're exploring canyons in a powerboat, take a marine radio so you can call for help if you have mechanical problems. Some canyons are not frequently visited, and you could wait a long time before anyone comes by to help.
Don't be in a hurry. It takes time to get instructions on safety and boat operation. It also takes time to refuel the boat and go through the check-in process. Allow plenty of time for this, and just relax and make it part of the experience.
For information about houseboat rates, rental and lodging packages, group travel, etc., see www.visitlakepowell.com. Click "Overview" for a list of marinas and available services. Click "Houseboats" for a list of boat sizes, types and features.
To make houseboat reservations or get a houseboat planning guide, call ARAMARK at (800) 528-6154.
The online Guide to Visiting Lake Powell, by Shelly James, contains lots of helpful information for first-time visitors. Go to www.canyon-country.com/lakepowell and click on "Guide to Visiting Lake Powell" (just below the weather ticker).
If you are interested in buying a houseboat share, contact Desert Shore Houseboats at (801) 292-792. You can also find shares at www.sunrisepeak.com and on the www.canyon-country.com site.
For information about the Glen Canyon National Recreation Area, go to www.nps.gov/glca and click the in-depth button.