By Dave Webb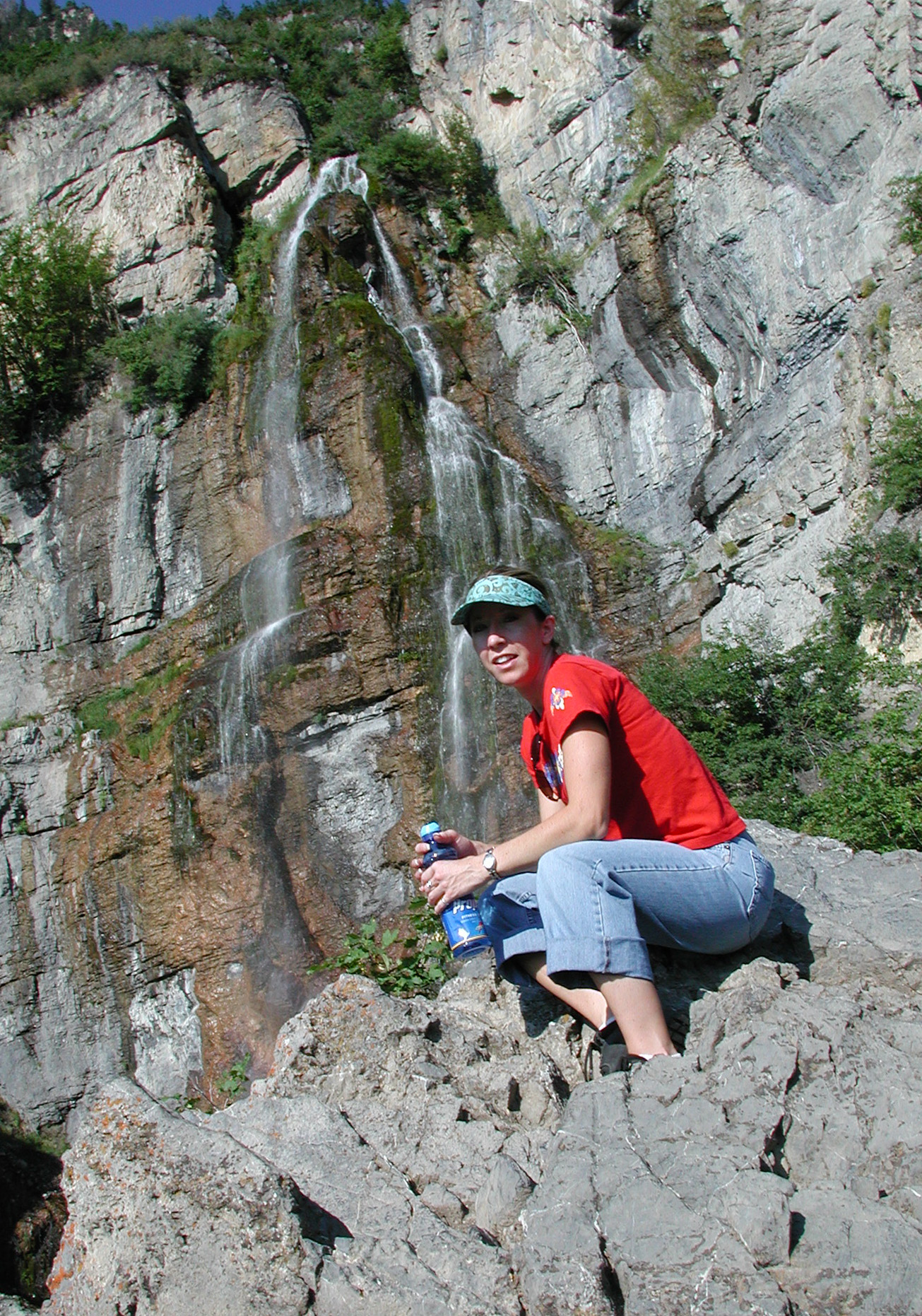 For a desert state, Utah boasts an abundance of beautiful waterfalls. I enjoy seeking them out, hiking to them and photographing them. My wife often joins me on these treks. Robyn isn't much into fishing or backpacking or canyoneering, but waterfall hunting is an outdoor activity we enjoy together.
Some Utah waterfalls are famous and rank among the most beautiful in the world. Perhaps our best-known waterfall is Bridal Veil Falls, in Provo Canyon. It is lovely and deserves to be included in a list of our best. Sadly, it may be the only local waterfall known to many Utahns.
Tourists traveling to Utah often want to see Lower Calf Creek Falls. Guidebooks hype it and it is almost always included on lists of the most beautiful falls in the Southwestern US. Ironically, most Utahans have never seen it in person and many are unaware of its existence. Upper Calf Creek Falls is almost as beautiful and definitely more obscure. It is a treasure enjoyed by relatively few people.
We have a half-dozen other waterfalls that are of comparable beauty, but are almost completely unknown to residents and tourists alike, that can be viewed from the roadside or at the end of a short hike. I describe my favorites below. I acknowledge that my list is subjective - my favorites - and that many others could easily qualify for a "best in Utah" list.
Dozens of what I call lesser waterfalls are scattered around the state and are definitely worth visiting. Adams Canyon east of Kaysville offers two waterfalls. The trailhead is on the north side of Holmes Creek Reservoir, just off US 89 and Oakhills Road. Farmington Canyon also has two waterfalls. The Forest Service website has good information about these areas: www.fs.fed.us/r4/wcnf/unit/slrd/recreation/trails/davis_county_trails.shtml
My favorites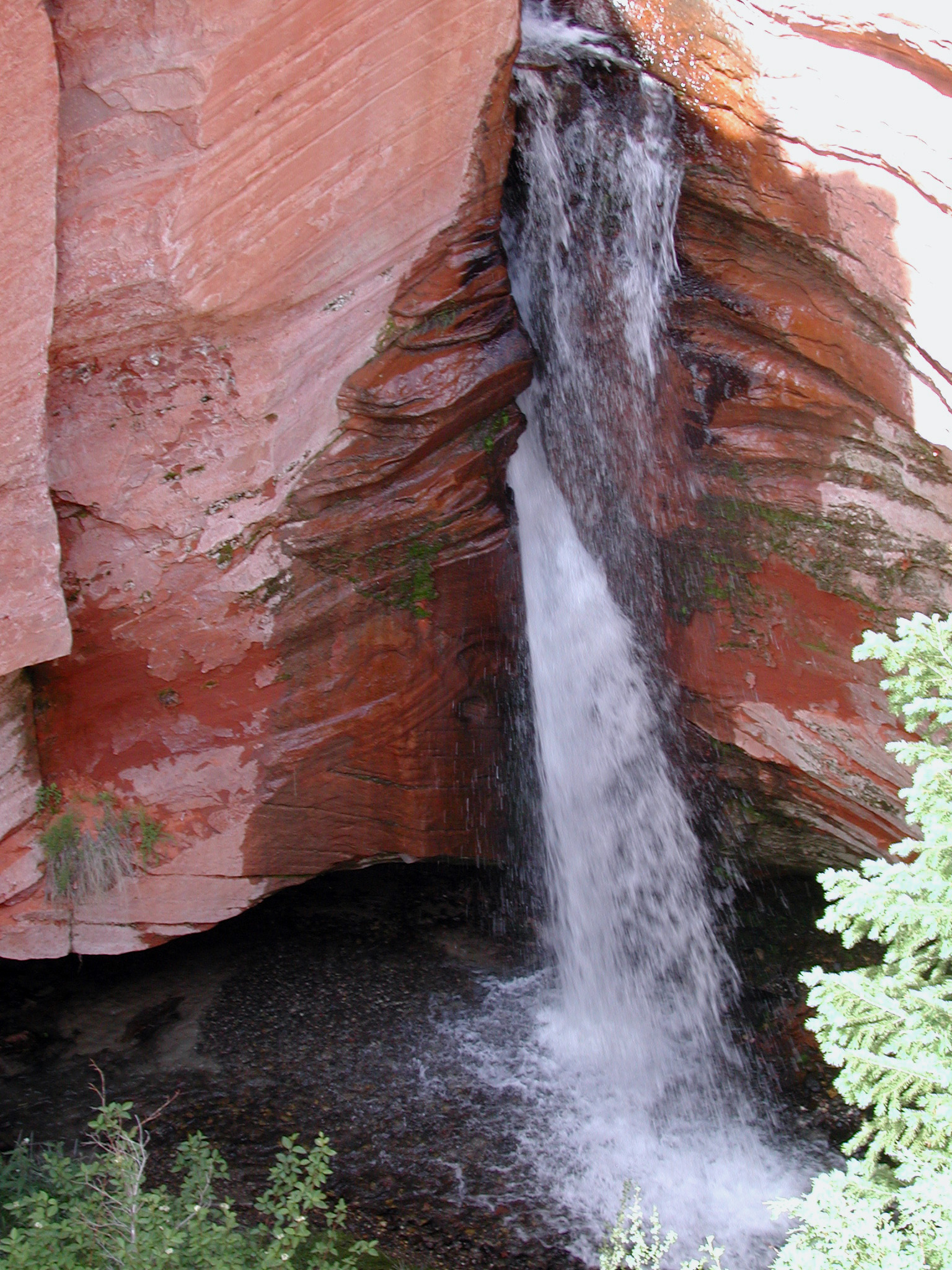 Waterfall on Sand Creek, north of Torrey. This one is a gem - a little-known beauty. It is very photogenic. And you'll almost certainly have it to yourselves - it is located in a seldom-visited area. It is not far from the famous Calf Creek Falls and they overshadow it. As we often say, if scenery like this were found in any other state it would be a national park, or at least a state park. But in Utah it is forgotten amid an abundance of spectacular landscapes.
This waterfall is the most difficult to reach of any described here. It requires a drive up a rough road suitable for high-clearance four-wheel drive vehicles. And then you have to hike a steep mile up a mountainside. But it is well worth the trip. There are several very nice primitive camping spots along the road below the trailhead.
Kens Lake waterfall. Did you know Moab offers a beautiful waterfall? It is located along the stream that feeds Kens Lake, south of town. The water tumbles over red sandstone cliffs, creating a stunningly beautiful scene. This is a man-made waterfall, created when upper Mill Creek was diverted to supply water for the reservoir. There is a developed campground along the stream just below the waterfall. Access is easy via passenger car.
Bullion Falls. Bullion Creek flows into the town of Marysvale, coming out of a canyon where mines did in fact produce a significant amount of gold. From US Hwy 89 in the middle of town, follow Center Street east into the canyon. Park at the bridge just below the old miners park and then hike along the north side of the creek. You'll soon come to an overlook where you can see the stream plunge down a two-step waterfall. Hike to the pool and you'll feel the power of the stream as it comes down a 50-foot cliff above you and then tumbles down a dizzying precipice into the canyon below.
Fifth Water second waterfall. Fifth Water is a tributary to Diamond Fork River, east of Spanish Fork. It offers a series of beautiful waterfalls and some very nice hot pot naturally warm mineral water pools. The waterfall featured here is the second when hiking in from the bottom, from the Three-Forks Trailhead. There are impressive waterfalls above and below this one, plus a couple cascades some writers have labeled waterfalls.
A word of caution: The hot pots here are very nice. Sadly, they attract a good number of people who enjoy soaking in the nude. The hot pots are located just below and above the lower waterfall - the falling water all but lands in one big pool. The trail winds past this area and continues up the canyon to the second waterfall. If you hike it be prepared to see totally nude people soaking in the water, relaxing on rocks and hiking the trail.
Stewart Falls. This is one of our better-known waterfalls, and one of our most photogenic. It is located just northwest of Sundance Resort, along the Alpine Loop between American Fork and Provo Canyons. People staying in the chalets at Sundance can visit the falls by strolling casually up the stream from the resort. Others should park at the Aspen Grove Trailhead and follow the good, maintained trail to the waterfall.
Battle Creek Falls. There are actually three waterfalls on Battle Creek, located above Kiwanis Park in Pleasant Grove. The most impressive is the first one, coming up from the bottom. Adventurous people enjoy rappelling down the face of this waterfall.
Swimming Holes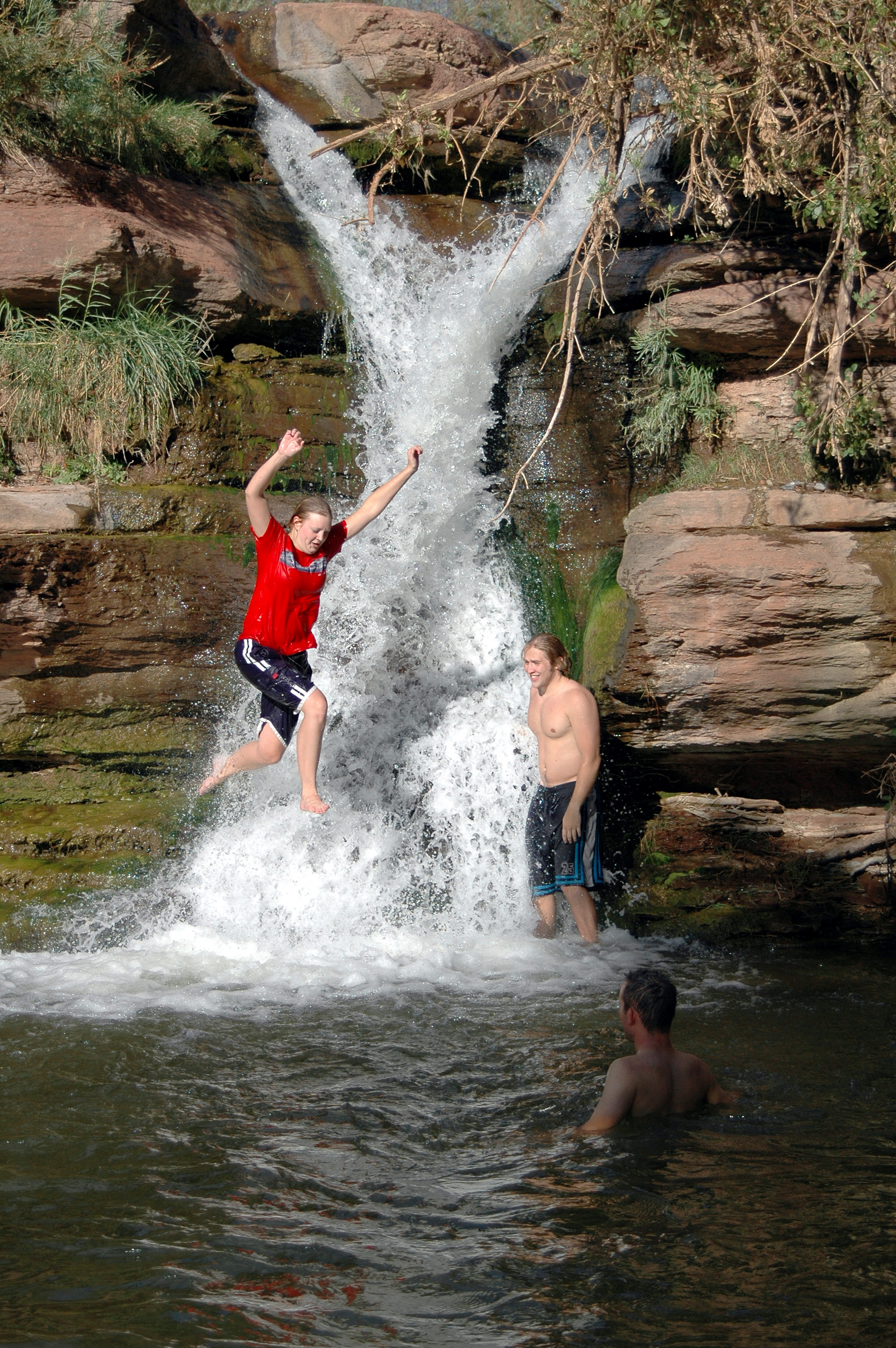 People often dream about swimming in pools of pure water below waterfalls. That can be very enjoyable. Both of the Calf Creek waterfalls offer plunge pools that are deep and clear and inviting on a hot summer day. However, the water is frigid - too cold for serious swimming. You jump in and quickly jump right back out.
There is a fun pool under the first waterfall on Fifth Water Creek, next to the hot pots where nude people hang out.
The other waterfalls described here do not offer swimming holes. Bullion Falls has a pool but the water is ice cold and the bottom is rocky.
It is fun to take a dip in a pool under a waterfall, or to frolic in the spray. But playing in the water isn't the primary reason I seek out these special places. I come because of the beauty, the astounding beauty of water, rock and Eden-like gardens.
Actually, now is perhaps the best time of year to view these waterfalls. Hiking is pleasant with the cooler fall temperatures. The leaves have started to turn and the mountains and canyons are incredibly beautiful. This is prime time to enjoy our spectacular waterfalls.
The list of waterfalls I know about but have yet to visit grows longer every year. There are splendid waterfalls in Utah's backcountry that are virtually unknown - that have been viewed by only a small number of humans. It is great sport hunting them down. I hope you'll join me on the trail sometime.
Copyright Dave Webb, 2005