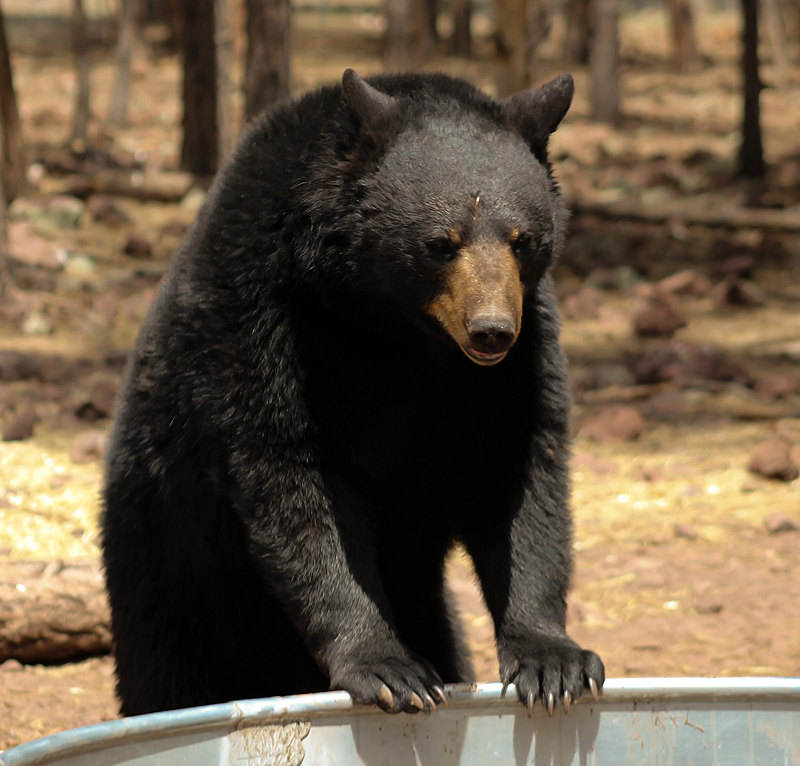 By Sue Mcaley
(Published 2016)
Wildlife lovers visiting the Grand Canyon South Rim area will not want to pass up an opportunity to visit Bearizona. Located on the intersection of I-40 and Hwy 64 in Williams, AZ, Bearizona is more than a "drive thru" zoo. It is educational entertainment that is sure to be an enjoyable experience for the entire family.
Our group of single woman visited Bearizona mid-week, right after spring break. Upon arrival, we were greeted by a friendly hostess and her hedgehog assistant. She explained all the safety rules, including the fact that our dog was welcome, but the windows had to be rolled up at all times.
Bearizona maintains a perfect balance for keeping the animal residents and human visitors safe and happy. There was plenty of wooded acreage which made for an adventurous North American safari. Along the driving route, we had a perfect view of mountain goats, wolves, burros, mule deer, buffalo in addition to our favorite, the bears. We were very pleased to view the bears in a very comfortable environment. Watching them sleeping peacefully in the trees and playing happily made for lots of "ooohs and aahs".
A cool day allowed us to leave our k-9 companion in the car in order to visit the walking area. The walking area is well maintained and designed to blend in with the natural landscapes of Northern Arizona.
The High Country Raptor show is highly recommended. The half hour presentation was a perfect mix of facts and fun. The speed and grace of the falcons and owls swooping inches above our heads was an experience we will not soon forget. Donations to help program can be handed directly in the beak of a rescue bird.
Other exhibits in the walking area gave us a close up look at species Native to North America including foxes, skunks, porcupines, javelina, and our personal favorite, the very playful otters. We also made friends with the goats in the barnyard petting zoo, and observed the bear cubs through protective glass. The very large gift shop offers some unique items as well as hosting the "keeper chats". We learned too late, that we were welcome to bring a picnic lunch, but snacks were available.
Bearizona deserves an "A+" rating for family entertainment, education and conservational efforts. It is growing in popularity. exhibit size and is sure to be one of the most popular attractions in the Northern Arizona area. Be sure to visit their website before going as an informed visitor is a happy visitor. The best advice to the Bearizona bound? Have plenty of gas and battery power in your camera/phone. The photo opportunities are endless, and memories long lasting.