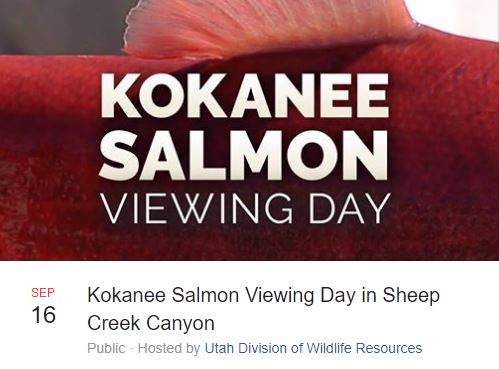 During early fall mature kokanee salmon turn red and move toward spawning areas. Many spawn up Sheep Creek, a tributary to Flaming Gorge, and up the Strawberry River (above Strawberry Reservoir). They are relatively easy to see when the enter the streams.
Utah's DWR hosting a kokanee viewing event at Sheep Creek - this year it will be held Saturday, September 16 at 10 AM - 3 PM. DWR privided this information:
One of the most scenic kokanee salmon runs in the state takes place at Sheep Creek, and we're inviting you to join us for a free viewing event! Watch the fluorescent red fish as they spawn on Sept. 16 from 10 a.m. to 3 p.m. Our biologists and staff will be at the site to help you see the kokanee and interpret their behavior. Don't forget your binoculars! You might see some bighorn sheep and other wildlife too.
As they turn red their flesh begins to deteriorate and they die after spawning. To protect the fish, these tributaries are closed to fishing during the spawning period. At Sheep Creek the closure is from Aug 15 through the last Saturday in November. The Strawberry River is closed from Sept 1 until the second Saturday in October. Kokanee can be found in other reservoirs and spawn in other streams. Check the current fishign guidebook for regulations.
Only mature fish spawn. Younger fish stay in the reservoirs and can be caught throughout the year. Check the current regulations.