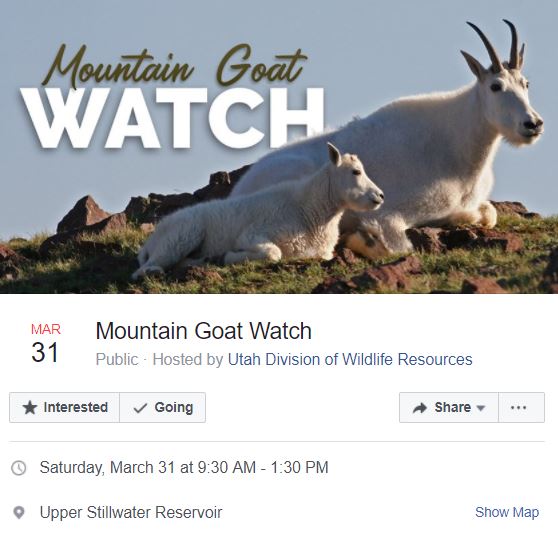 Spring's arrival provides a unique opportunity to see mountain goats amongst steep terrain in an area called Rock Creek. The area is northwest of Mountain Home in northeastern Utah, and on March 31, we're hosting a free Mountain Goat Watch from 9:30 a.m. until 1:30 p.m.

Spotting scopes with PhoneSkope adapters will be available so you can get a close look at the incredible climbers in their shaggy, wintery, white coats. Biologists will set up a site that includes displays and information about mountain goats. From the site, they'll direct you to additional viewing areas.

We suggest bringing warm clothes and a lunch or snacks. Mountain Home Inn and Store, who has partnered with the event this year, will be providing some light snacks and refreshments throughout the event. The weather will determine if the event is held. Call 435-781-9453 the day before the event for an update.
Registration for this event is not mandatory and tickets are not required, but we're asking that you please fill out the registration form so we can make improvements to future events: http://bit.ly/goat_watch
To reach the viewing site from U.S. Highway 40, take one of the roads from US 40 to Altamont/Mountain Home:
a) If you're approaching from the west: turn left (north) onto state Route 87 (N. Center Street) in Duchesne. Follow SR 87 north for roughly 15.5 miles and turn left onto the road to Mountain Home (21000 West). This road is about four miles before you reach Altamont.
b) If you're coming from the east: drive through Roosevelt on U.S. 40 roughly 5 miles and turn right (north) onto Ioka Lane (3000 South; this road is right before US 40 turns south and goes uphill). Ioka Lane is also SR 87, so stay on this road to Altamont, then drive through Altamont to reach the Mountain Home Road, and turn north. This road is roughly 4 miles past Altamont.
From the SR 87/Mountain Home Road Junction: travel north on the Mountain Home Road about 2.8 miles, and turn left at the Mountain Home Store onto Country Route 95 or FR134. This is the road to Rock Creek. The turn isn't well marked, but there is a sign for the Miner's Gulch, Yellowpine, and Stillwater campgrounds.
Follow Route 95/FR134 roughly 20 miles to the viewing area.