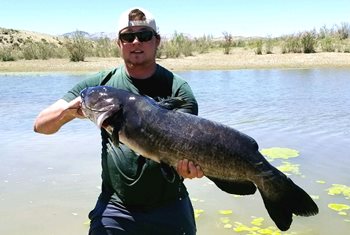 The Wyoming Game And Fish Department confirms a new state record catfish has been caught at Flaming Gorge:
"(Christian) Cosby and fishing buddy Brandon Chadwick were fishing near Anvil Draw on Flaming Gorge Reservoir June 24 when he caught a channel catfish weighing 28.52 pounds, measuring 39 inches long, with a girth of 23.25 inches...
"Wyoming Game and Fish Department Green River Fisheries Supervisor Robb Keith said there is no doubt Cosby's fish is a very old fish. "A quick Internet search suggests the oldest catfish on record is 40 years old," Keith said. "We last stocked channel catfish in Flaming Gorge Reservoir in 2008....
"The previous state record for channel catfish was set on April 27, 2005 by another Rock Springs angler, Don Ackerman, also in Flaming Gorge Reservoir. The catfish weighed 27.99 pounds, was 38 inches long, and had a girth of 26 inches."