Story and photos by Dave Webb
I awoke with the first light of dawn, a bad habit I'm trying hard to shake. Unsuccessfully in my attempts to return to dreamland, I lingered in my comfy mummy bag, hesitant to scramble out because I knew the morning air would be nippy. I unzipped my tent door and watched as the sky lightened. Soon the entire sky and nearby cliffs were aglow with a soft, salmon-colored light, harmonious across the entire visible world. It was a spectacular show — it alone would have justified the trip. Dawn in the desert is a mystical time.
We broke camp and quickly descended into a shadowy chasm full of wonder and mystery. Each step took us back into pre-history, to a time before "The Ancient Ones." Our destination: the Great Gallery in Horseshoe Canyon.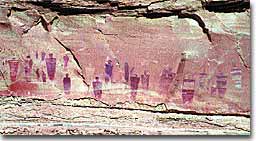 I've seen countless photos of the Gallery and so I knew what to expect. Still, a shiver ran down my spine as I rounded a bend and suddenly realized huge, ghostly figures were staring at me. Eerie humanoids. Some, undoubtedly gods or great ones, standing 10-feet-tall with animals and special symbols incorporated into their robes. Some without arms or eyes. Others with large, unblinking eyes, watching over the canyon sanctuary.
Edward Abbey captured the feeling in his work, Desert Solitaire:
"These are sinister and supernatural figures, gods from the underworld perhaps who hover in space, or dance, or stand solidly planted on two feet carrying weapons — a club or sword. Most are faceless but some stare back at you with large, hollow disquieting eyes. Demonic shapes, they might have meant protection and benevolence to their creators and a threat to strangers: beware, traveler, you are approaching the land of the horned gods...."
We sat quietly and stared at the panels of ancient rock art, noticing more and more of the intricate detail with each passing minute. Noticing but not comprehending. Each new detail brought unanswerable questions: Who created this artwork? Why here, in this fortress-like canyon in this remote and rugged spot, far from any oasis deemed habitable by modern man? What did the figures mean to their creators?
Barrier Canyon (now called Horseshoe Canyon) rock art is considered by many to be the most significant in North America. It sets a style and standard by which other rock art is evaluated. To protect the site while allowing public access, Horseshoe Canyon was added to Canyonlands National Park in 1971.
The canyon has been used by many people over thousands of years and it shelters art from various periods. But the dominant work – including that in the Great Gallery – is attributed to the Archaic culture and dates back to 1,000 - 2,000 B.C. That was long before the prehistoric Anasazi or Fremont or any modern tribe entered the region.
The Great Gallery is on my list of must do outings. It's a relatively short hike of moderate difficulty over a well-marked trail. It's suitable for families or youth groups.
The hike is enjoyable – it would be a fun outing even without the rock art. The canyon is scenic, with sheer slickrock walls, an intermittent stream, a forest of cottonwood trees, many other plants and a variety of animals.
Camping
Camping is not permitted in Horseshoe Canyon. It is allowed at the trailhead and on BLM ground near the rim. A vault toilet is provided at the trailhead. No other services are available and there is no fee to camp.
The trailhead is acceptable as an overnight camp spot if your intent is to get an early start hiking the canyon. It's not a great spot for other activities. There are no trees – no shade or firewood – and it's not a great place for late-night kid games. Goblin Valley is the nearest spot that is appealing for camping.
Getting There
The trailhead is located some 32 miles east of Hwy. 24, via a maintained dirt road. The road can usually be traveled in a passenger car but may be rough with deep ruts, especially after storms. The turnoff is the first road south of the Hwy. 24 Goblin Valley turnoff, and it also provides access to the Maze District of Canyonlands and to the Hans Flat Ranger Station. Signs clearly mark the entire route to the trailhead.
The trail into the canyon is well marked with rock cairns. When you reach the bottom simply walk up-canyon. The first rock art panel will be on your left about 1/3 mile up the canyon. It is easy to see from the trail and is marked by a sign. Other panels will be on the right and are also easy to see; some are not signed.
Hike Details
Round-trip distance: 6.5 miles
Elevation change: 830 feet
Difficulty: Moderately strenuous
Time needed: 4+ hours
Water: Carry all you need. (There may be running water in the canyon, but don't count on it. Never drink stream water unless it is treated or filtered.)
Seasons: Spring and fall are best. Hiking can be pleasant during mild periods in winter. Summers are hot, but hiking can be enjoyable during morning hours.
Groups of 20 or more must arrange to hike with a ranger. Contact the ranger station at the number below.
Other rules: No pets; no bicycles; no motorized vehicles. A free permit is needed to bring horses into the area.
Tours: Ranger-led hikes are offered every Saturday and Sunday from April-November. Meet at 9 a.m. at the trailhead bulletin board.
Hans Flat Ranger Station: 435-259-2652.