By Brooks Stevenson
Scott T. Smith
By now the feeling is almost palpable. Utah is starting to settle into its month-long role as the stage for the world's most famous athletic competition, and you either want to be right in the mix of things, or you're trying to avoid being caught up in the mayhem by accident.
So if you're like me, you decided not to sell your car so your family could afford to stand on a hillside at Snowbasin Ski Resort, mingle with our European comrades, and hopefully see a downhill ski racer as she cruises by at 70 m.p.h. Hurry, ring the cowbell before it's tooŠ late. Some things are better seen on TV anyway.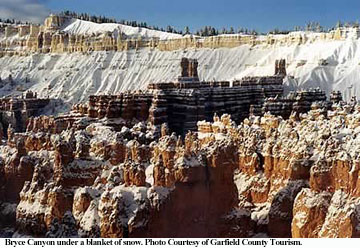 But you still want to enjoy this winter: Romp in the best snow on earth, take in some unique scenery, and spend some time with friends and family.
Well, look no further than perhaps the farthest place from the Olympics in Utah: Bryce Canyon National Park. That's right, the brilliant sandstone of southern Utah is the place to be this winter when our newly christened freeway system turns into a multi-lane parking lot.
I know, it doesn't sound right. But trust me on this one. Just load the family truckster to the gills with snow gear, take a day or two of your hard-earned vacation and set the autopilot for Ruby's Inn just outside of Bryce Canyon. Not yet convinced? Read on and decide for yourself where you'd rather recreate this winter.
New discoveries
The first time I visited Bryce Canyon National Park I was barely 10 years old. I was captivated with the remarkably diverse scenery: the tall, thick pine forest where we had camped and the radiant Claron sandstone of the nearby canyons. It was summertime and I assumed that the desert exterior that I saw was a year-round fixture.
A few years later I remember seeing a series of photos of Bryce Canyon during the winter months. One in particular still stands out in my mind: a lone cross-country skier gliding through the snow encrusted hoodoos as the sun rose in the distance. It was then I realized Bryce Canyon was not only a summer hot spot for tourists, but also a winter wonderland in the high desert of southern Utah.
In 1875, Ebenezer Bryce came to the Paria Valley with his family. He was sent. By early pioneers to settle the area. Quickly putting his skills to good use he built a road to the top of a nearby plateau to retrieve firewood and timber, and constructed an irrigation canal to raise crops and animals. It was during his forays for timber, water sources and lost cattle that Bryce came upon the brown, red, orange, yellow, pink and white pinnacles of limestone, sandstone and mudstone that rimmed the eastern edge of the plateau.
Locals soon dubbed the out-of-place area "Bryce's Canyon," and the name has stayed with the region since.
Eventually Bryce and his family moved to Arizona, but it wasn't long before another group of intrepid settlers, Reuben and Minnie Syrett, made the area home. In 1916, the Syrett family began to homestead on the plateau adjacent to "Bryce's Canyon," unaware of the geological phenomenon spread along the edge of the thick pine forest near their cabin. One day, as the story goes, one of the Syretts' neighbors paid a visit and asked Reuben if he'd seen the "big hole" on the edge of the plateau. The neighbor said it wasn't much, but Syrett might want to take a ride with him and have a look.
Impressed by its formations and colors, Syrett continued to bring friends and family to the canyon for picnics and hikes, and has been credited with stimulating the great interest that resulted in the area being set aside as a national monument in 1923. Syrett also established a lodge called Ruby's Inn that still stands today.
Not your average desert clime
In a place like Bryce, with oranges and reds ablaze in the midday sun, you don't normally think winter sports. But you should. At an elevation of nearly 8,000 feet above sea level, Bryce Canyon receives an average winter snowfall of nearly 100 inches, with March being the snowiest month of the year. The winter season brings both warm sunny days and subfreezing night temperatures. And there are activities for virtually everyone.
For the fans of petrol-powered machines there are 20 miles of picturesque groomed snowmobile trails near Tropic Reservoir and the East Fork of the Sevier River. Untold miles of signed and ungroomed trails lie just north of Ruby's Inn, including the Aquarius Plateau complex along forest roads that present unmatched vistas and pristine snow conditions.
If you're more into powering your own skis, there are more than 18 miles of groomed cross-country ski tracks to explore and practice your technique on. Once you've mastered the thoroughfare of groomed trails, move on to the wide-open terrain of untracked powder and solitude in and around the park.
You can also strap on a pair of snowshoes and explore the far reaches of the park the way Ebeneezer Bryce might have done it more than 100 years ago.
"Utah isn't afraid of snow," notes Jean Seiler, marketing director for Ruby's Inn, "and there are always sunny days and plenty of chances to enjoy our national parks and not feel the crowded stress of Salt Lake and the Olympics."
Along with the choose-your-own-adventure theme of Bryce Canyon, there is also a yearly winter festival. For the past 15 years, Seiler and the Ruby's Inn crew have put together one of the best winter festivals in the West — the Bryce Canyon Winter Festival. Nearly 1,000 people converge on the inn and the park for a weekend to enjoy snowshoeing, hiking, sledding, snow sculpting, ski waxing clinics, cross-country skiing and the beauties of the Paunsaugunt Plateau. The festival is designed around activities that anyone, of any age or ability, can enjoy, from simple hikes to intense snowshoe journeys.
This season the festival will be held February 2-4, 2002, to accommodate the many festival volunteers who'll also be working closely with the Olympics.
"We're going to continue with the yearly festival, but on a slightly smaller scale," Seiler says. "Normally there are a variety of races and competitive events that are an integral part of the festival, but we won't have our normal staff of volunteers, which will make it hard to hold many of these events. We'll still have ski and snowshoe rentals, our trails will be immaculately groomed, and the park and its hiking trails will be open."
Ruby's Inn will also play host this year, if only for a few minutes, to those carrying the Olympic Torch before it wends its way north for the opening ceremonies.
"We want to be a getaway for families who want to enjoy a little winter recreation," Seiler says. "Bryce in the winter is unlike anything else you'll ever see. And with all the focus on Utah and the Olympics, what a great chance to see what the rest of this great state has to offer."
Nature has spent millions of years, hard at work, carving and shaping the pink cliffs of Bryce, which is not actually a canyon, but the eastern escarpment of the Paunsaugunt Plateau. Ebeneezer Bryce once called it a "helluva place to lose a cow." I'd say it's also a helluva great place to enjoy the winter sunshine, recreation and desert scenery.
If you go
Check the Ruby's Inn web site for information on accommodations and activities at www.rubysinn.com, call (800) 468-8660, or visit the park web site at www.nps.gov/brca/index.htm. you'll find history, geology and park-specific information for winter visitors.