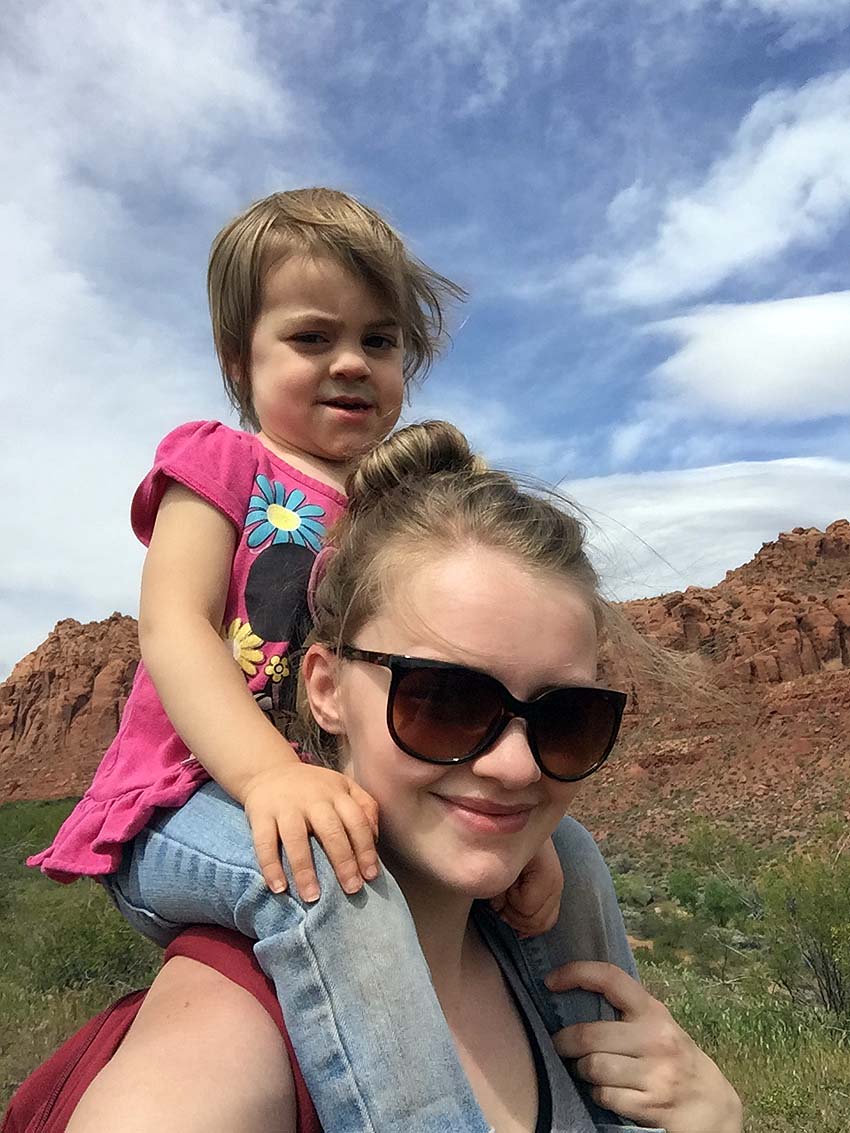 By Xanthe Aintablian - May, 2017
Last month, in mid-April, I took a trip down to Saint George. Actually, I took a trip down to Saint George again. It is the 4th or 5th trip down there this year already, because I love that area and I never run out of things to do or places to explore.
But this time I had my two children with me, 4 and 2 years old. As any parent knows, that can be both a challenge and an opportunity. It limits the places I wanted to hike to, but it allows the chance to immerse my kids in the things I love the very best: nature, sunshine, exploring, and redrock.
I decided to head to Snow Canyon while I waited for some family members to head into town later that day. The state park is close, within minutes, of Saint George, so I don't have to endure the whining that tends to issue from small children who just want out of the car and to climb all the fun rocks and mountains they see. I don't blame them, either.
I also chose Snow Canyon because of the Johnson Arch trailhead. It is located right outside the park entrance, and I knew it was a flat, short (2-mile round-trip) hike that the kids would like. What I forgot about that particular trail is that it is only open November through mid-March. I'd missed the season by half a month, and I didn't find that out until we'd already hiked most of the way there.
We got to where there was a closed gate for the Johnson Arch trail, and a fork in the path that lead around the mountain to Scout Cave. I'd never been on that trail before and didn't know how long it was (I hadn't read the sign at the trailhead - READ the signs!), but I did know a couple of crucial things that you do need to know in canyon country: there was a marked trail, there were other people, I had more than enough water and snacks, and most importantly, I knew my 4-year old would be pretty mad if we just turned back right there without going to the end and seeing something awesome.
The hike to Scout Cave ended up being close to 4-miles round-trip. If I'd known how long it was before we started, I would never have gone. My kids had never hiked or walked even close to that far before, and my 2 year-old has the propensity, as most toddlers do, to want to be carried most of the way. Being out of shape, 2 ½ months postpartum, and not a beacon of patience for unhappy kids would have definitely made me decide to not embark on a 4-mile hike. However, I naively assumed it wouldn't be too far, and the first passerby I questioned led me to believe that was correct. Though I would have assumed it to be the stuff of nightmares, it was amazing. I'm so glad I went blindly into that experience. (Something you almost never say in Canyon Country, and probably shouldn't.)
I knew we could turn back at any time, but we never wanted to. The sage was in bloom, the wildflowers were everywhere, which look stunning against the red/orange backdrop. The basalt fields and old lava flows were fun and such a different sight to behold.
We took our time. I let go of any expectations and decided to let the kids set the pace. If they wanted to stop and play, we did. If they wanted a break, we did. We probably spent a good 5 hours (with a half hour of that in the cave at the top) completing the hike, more than double what adults would spend, but it was awesome.
I did carry the toddler on my shoulders quite a bit, but all the breaks and playing in the sand helped my stamina. I was just happy to be in my element and to see my children enjoying it to. We examined flowers, trees, and rocks, and we accomplished something great together. My big kid still tells people about how she hiked 4-miles. She's proud, and I'm even prouder.
The hardest bit of the hike is a steep elevation gain near the end, up to the cave. There are steps on the trail, and then a tiny bit of scrambling over rocks to get right into the cave.
The cave itself is quite large, very cool and shaded (the only shade along the hike), with a great view out over the Ivins area.
On the way back we still took our time and enjoyed ourselves. It wasn't until the last ½-mile that my 4 year-old went from happy to done, and I got a little impatient to just get back to the car. Many people we passed told me I was brave, and one person said I was crazy. I'm assuming they were referring to the kids, but it could have been how full I packed my bag - I brought way too much water.