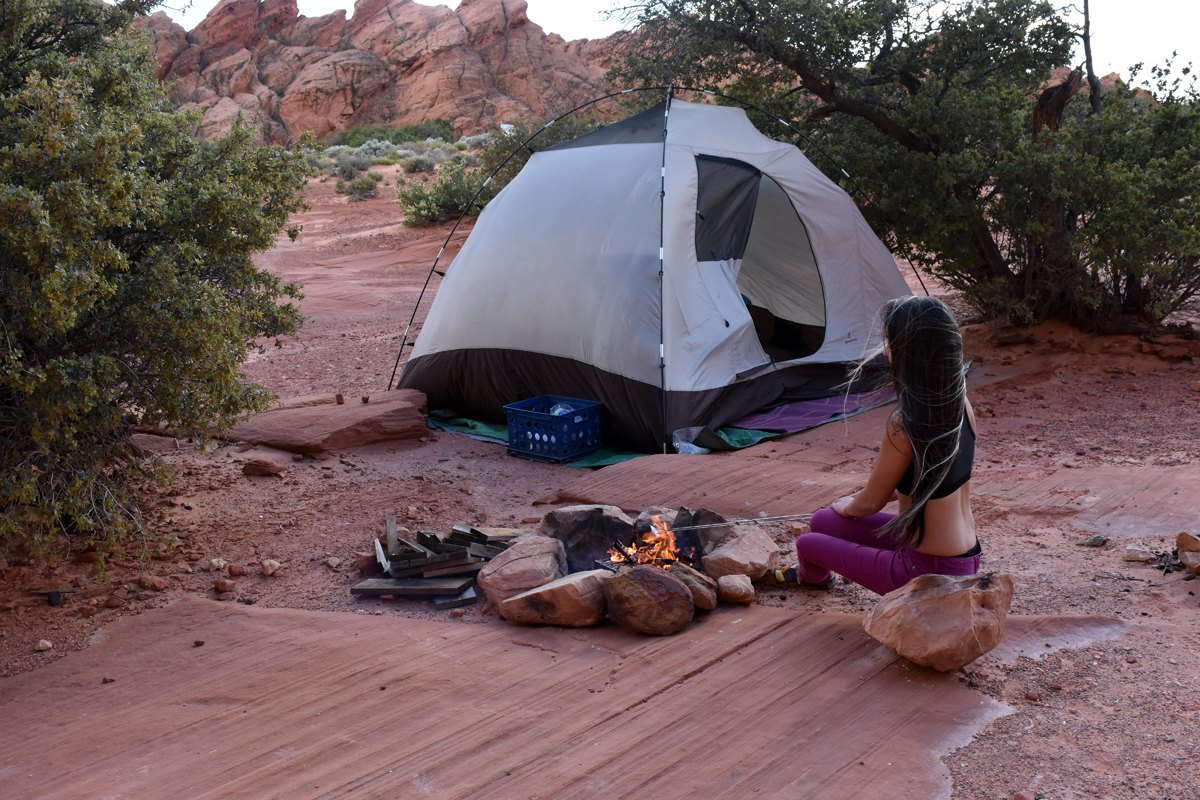 We discovered a beautiful little camping area near St George that is ideal for spring outings. Called Sand Cove, it is located at Sand Mountain and offers 12 sites for primitive camping. There are camper-made fire rings but no facilities of any kind. A free permit is required to camp. (No fees or permits are needed for day use.)
It is set against red sandstone cliffs, with sand dunes coming down the sides and plenty of small canyons and fins to explore. The scenery is gorgeous and it is great fun climbing on the rocks and hiking on the dunes. One trail leads to a small but very photogenic natural arch.
The area is not well known and receives only light use. One reason is because the access road is very rough. High clearance 4-wheel drive is required if you want to drive right up to the camping area. There is a parking area a half mile away, if you want to walk in and not challenge the steep rocky, sandy road.
The area is normally very dry, although there may be water-filled pot holes immediately after rain. You must cross a wash if you want to drive to the camping area. If water is flowing in the wash, don't try to drive through. If a storm comes in while you are at Sand Mountain, and water starts flowing through the wash, wait for it to subside. Flash floods here can be ferocious.
This is an ideal spot for spring and fall camping and adventuring. Winters are mild and camping can be pleasant if you have appropriate gear. Summers are very hot but it can be fun to hike around in the morning hours.
Sand Mountain is located within the Red Cliffs Desert Reserve and vehicles must stay on established roads. In this area is only allowed at Sand Cove. Nearby, nice developed campgrounds can be found at Red Cliffs Recreation Area, Quail Lake and Sand Hollow.
Directions to Sand Mountain: From St George, follow I-15 east and exit at the town of Leeds. From the I-15 entrance on the east side of Leeds, follow the frontage road for 0.7 miles and look for the Babylon Mill Road, which runs south. The Babylon Mill Road is improved on the upper end but soon becomes very sandy. Follow it until you see the signed turnoff to Sand Mountain.
Lat: 39.637005°
Long: -112.389077°
Sand Cove BLM Webpage: https://www.blm.gov/programs/recreation/passes-and-permits/lotteries/utah/sand-cove-camping-permit
Additional Information: http://www.redcliffsdesertreserve.com/
(435) 634-5759
(This article was published May, 2019)