Winter Hike in Snow Canyon
By Rebecca Webb
February, 2008
Snow Canyon map and trail guide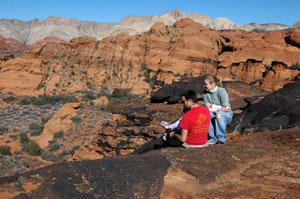 Where can you find sand, snow, sunbathers, red rock and ancient art within 20 minutes of each other? St. George. David, Aaron, Katherine and I arrived in southern Utah Friday night and stayed at the Motel 6 just off the highway. For the price, I thought the room was cramped. Our 15-month-old, Katherine, slept in a corner on the floor, but she did have fun sliding around in the shower (gross!).
The next morning we headed off for our first hike. It's called Snow Canyon but I didn't see any snow. My father-in-law, David, explained that the area is named after Lorenzo Snow, not because the cold stuff falls there.
The fee to get in is $5 per carload, and much to my surprise they take checks! If you get a guide at the Snow Canyon State Park entrance it provides helpful titbits about each trail. The park official at the park's entrance was very helpful, and happy to discuss trails, weather, cautions and any other relevant topic. Further down the road there was a much larger building with an available restroom in the parking lot (which did not smell inside, thank goodness). If you intend to be parked in that particular place for a long period of time, park in the larger lot. The smaller one is for temporary parking. Parking is also available at each trailhead throughout so you can actually drive from one trail to another. This is nice if you want to have access to a packed snack but don't want to carry it around all day. It is also nice if you have children or other needy individuals in your party.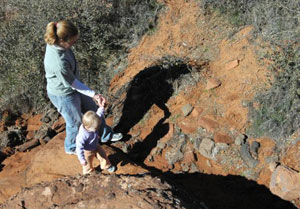 Our first stop was for David who took a short walk along the roadside sand cliffs to look for history written on the walls. I observed that the temperature was significantly lower in the shade. In direct sunlight I was strolling along with short-sleeves at some points. In the shadow of the massive rocks Katherine and I were shivering. Aaron, on the other hand, was thriving and climbed up the side of the rocks. He was having a blast letting loose and running round like a kid in a playground. The short, easy Pioneer Names trail leads past rocks where pioneers wrote their names in axle grease, some dating back to 1881. The horrible reality is that some ignorant people choose to add their names to the rocks and even over the historic names that have been there for years.
Hidden Pinyon Trail and Overlook provided us with low impact, family fun. Katherine was able to manoeuvre through much of it herself. We helped a little over large rocks and unlevelled areas and carried her sometimes in order to move at a normal human rate. There were a few extra fun spots where jumping along the trail was permitted but not required. Cacti and various stones provided plenty of distraction for a toddler. The hike climaxed in a great view of the desert formations. Light sand stone mountains in the distance contrasted with the dark oranges and reds of the nearer formations. Black volcanic rock spotted the warm hues with sky blue topping off the scene. We loved it and it made for great pictures. To make us especially nervous, Katherine took a particular interest in the edge of the cliff that is the location of this spectacular view. So while it was wonderful and the pictures turned out great, she was watched extra carefully at this point of the hike.
The trail is a loop, which is a great comfort to me due to my lack of familiarity with the landscape. It is harder to get lost when you just have to keep walking. On our way back around Katherine did the cutest thing. She was on her daddy's back and fell asleep right there! She must have been tuckered out to have zonked off that fast. Aaron finished carrying her to the car where we strapped her in with no problems.
On the road back Aaron and David pointed out the sand dunes. Back in college several roommates had talked about how much fun the sand dunes were, so I have always wanted to go. Aaron and I headed out and just off the park's main road there they were! Amazing! It was like being back in Florida but in the middle of the desert. I took the rare opportunity to remove my shoes and socks while Aaron and I walked back in time to our first date where we had strolled along the beach. Just to the north, young boys played ball and rolled down the hills. Aaron suggested I roll down a hill or two but I declined, not wanting to add more sand to my attire. I didn't want to leave. The sand dunes were fun.
A little to my surprise, sadness hit when we arrived home. There was too much snow on the ground and it was chilly outside. Had I really just been running around in the rays of the sun? How could this be the same state, just a few hours away? (Answer: elevation.) I would have to wear a coat during the day and there would be no more sun basking for a while. What a bummer. Immediately my mind pondered on a return trip to Southern Utah. You know, I still have some red sand in the shoes I wore.
Copyright Dave Webb